Design is one of the most challenging, fast-moving, and visionary fields to work in—and it can be financially rewarding, too. We have been at forefront of student's success in all NID, NIFT, UCEED, NATA  etc. exams.
Our exceptional successful students
ADK academy has been creating winners in all design exams: NID, NIFT, UCEED, NATA, MIT Pune, Symbiosis design, UID, Srishti and more by extensive preparation in drawing and aptitude. Students are trained for hundreds of hours on Aptitude and drawing problems so that they can be selected in any design exam. Our academy is located in Chinchwad, Pune, but we take online classes everywhere. Online Classes
Our Courses for NID, NIFT, UCEED, NATA..

Career in design has starting salary of Rs. 34000/- (Average)
This is a comparison between a design and engineering career, every year 2-3 thousand design students graduate compared to 3-4 lakh engineering students, the career path of a design student starts with a high salary.
Career rise: design careers for students from NID, NIFT, UCEED, NATA, etc rise faster with bigger paychecks.
Design students reach their goals before others.

Career in communication design
Communication design: design visual concepts to best convey clients' messages to their intended audiences example: Exhibition designer: design special exhibits and movie, television, and theater sets. Graphic designer: design content for multimedia, web, brand, magazines, logo, corporate brochure etc.

Career in fashion design
Fashion designers create women's, men's and children's apparel example: sportswear, maternity wear, outerwear, underwear, formal wear, eyewear and footwear. Accessory designers: design belts, scarves, hats, handbags and hosiery Fashion merchandising involves developing campaigns, displays and advertisements, directing manufacturing and marketing as well as creating sales strategies

Career in industrial design
Industrial designer designs every product you use in your school/college, home, office .... Industrial designers develop concepts and designs for manufactured products.
Product design is about problem solving, about visualizing the needs of the user and bringing a solution and creating objects meant for mass production.
Automotive design is a creative process used to define the physical appearance of motor vehicles such as cars, trucks, motorcycles etc. It encompasses interior and exterior design.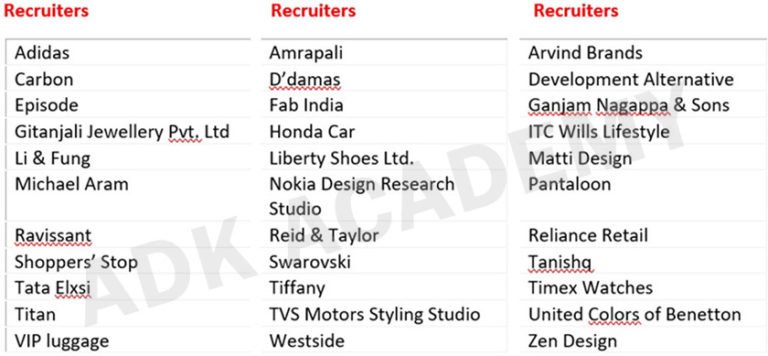 Placement in design
Recruiters: these are some biggest campus recruiters for NID, NIFT, NATA, UCEED, MIT, Symbiosis etc. Some of the biggest names in the industry come for recruiting to these campuses and 100% students are placed in them.
Entrance Exams for Design - NID, NIFT, UCEED, NATA..
Government Exams:
NID – Ahmedabad (B.Des, M.Des), Kurukshetra (Dip.) , Vijayawada (Dip.), Jorhat (Assam), Bhopal
NIFT– 16 centers (B.Des, BFTech, M.Des, M.F.Tech, MFM)
IIT – UCEED (B.Des) – Mumbai, Jabalpur, Guwahati, Hyderabad
IIT – CEED (M.Des) Bang., Mum., Delhi, Guw., Hyd.,Jabal., Kanpur.
Private Exams:
Srishti Bangalore- (B.Des, M.Des)
MIT (B.Des, M.Des)- Pune, Ujjain
Symbiosis (B.Des)- Pune
NATA, IIT (B.Arch), CEPT– NATA at J.J. School of Arts, Abhinav Pune, other colleges
UID (B.Des, M.Des)- Ahmedabad
UPES (B.Des, M.Des)- Dehradun
Pearl Academy (Diploma)- Delhi, Mumbai & Jaipur
GLS (B.Des, M.Des)- Institute of Design, Ahmedabad
and other institutes…..
Degrees at Undergraduate Level
What degrees do you get in design at undergraduate level (after 12th)?
Degrees one can take are
B Des (Bachelor of Design) : Bachelor of Design (B.Des) or B.Design is a degree in design field at undergraduate level. B.Des degree is a full-time four-year course.
Institutes:
NID
NIFT
IIT-UCEED
Footwear Design and Development Institute (FDDI)
MIT Pune
Symbiosis,Pune
Srishti, Bangalore
and many other institutes
Bachelor of Fashion Technology (BFTech): Fashion Technology  deals with techniques and equipment used to produce fashion products. It is a four -year course.
Institute
NIFT
B.Voc (Bachelor of Vocational Education): 4 Years Undergraduate / 5 Years Integrated Postgraduate Degree
Institute:
The Indian Institute of Crafts & Design, Jaipur
BSc Fashion Design: It is a three-year course, it covers the study of creating original designs in garments, footwear, jewellery, luggage, etc.and study of trends in fashion.
Institutes:
JD Institute of Fashion Technology, Mumbai
International Institute of Fashion Design (INIFD), Mumbai
J.D Birla Institute (JDBI), Kolkata
Bachelor of Fine Arts (BFA): It is a three-year course,  it includes subjects such as painting, sculpture, photography, literature, animation, etc.
Institutes
Rabindra Bharati University – RBU, Kolkata
College of Arts, University of Delhi
BHU – Banaras Hindu University
Bachelor of Architecture (BArch): It is a five-year degree course, design the aesthetic aspects of layout a building so it functions properly.
Main exams:
NATA
B.Arch
CEPT
Institutes
Sir J.J College of Architecture, Mumbai
CEPT University, Ahmedabad
SPA Delhi – School of Planning and Architecture
What does a designer do ?
What are the courses available in design at undergraduate level (after 12th)?
Candidates can pursue UG, PG and PhD in design courses in a range of specialized fields such as:
UX / UI design
Fashion design,
Interior design,
Video game design,
Web design
Exhibit design
Graphic design,
Textile design,
Apparel design,
Jewellery design,
Industrial design,
Automobile desgn
Product design,
Furniture design etc.